ATENCIÓN! CONSULTAR DISPONIBILIDAD
Existen limitaciones en la disponibilidad de este producto, que pueden resultar en tiempos de entrega más prolongados. Si lo desea, puede reservar este producto enviándonos un mail a info@relojesconestilo.com.
PLAZO DE DEVOLUCIÓN 15 DÍAS
3 AÑOS DE GARANTÍA OFICIAL DEL FABRICANTE
Le avisamos si baja de precio
Si le interesa este producto y desea que le avisemos cuando esté en oferta introduzca su correo electrónico:
Características técnicas del reloj Garmin D2 Air X10 blanco (010-02496-13)
Movimiento

Digital

Dimensiones caja (diámetro x grosor)

43.6 mm x 43.6 mm x 12.6 mmDescargar guia de tamaños

Diámetro (mm)

43.6

Altura / grosor (mm)

12,6

Peso (g)

51

Material caja

Polímero reforzado con fibra con cubierta posterior de polímero

Cristal

Corning® Gorilla® Glass 3

Resistencia al Agua

50 mtrs+ info

Correa

Silicon y Cuero Con montaje rápido (20 mm, estándar del sector)

Bucle

Standard de hebilla

Tapa de fondo

Acero roscado

Cronógrafo

Si

Fecha

Si

Agujas y marcadores luminosos

AMOLED; modo de encendido permanente opcional

Bisel Giratorio

No

Garantía

3 años

Presentación

Estuche Garmin

Especificaciones Especiales

Detalle de todas las funciones aquí: https://www.garmin.com/es-ES/p/869433/pn/010-02496-19#specs

Reserva de carga

Smartwatch mode: Up to 7 days Battery Saver Smartwatch Mode: Up to 10 days GPS mode with music: Up to 8 hours GPS mode without music: Up to 24 hours GPS + SPO2: Up to 20 hours
Relojes Garmin
DISTRIBUIDORES OFICIALES GARMIN ESPAÑA
En Relojes con Estilo somos distribuidores oficiales de Garmin España en el segmento de "Relojería". Así constamos en su base de datos, la cual se puede consultar en su web oficial https://www.garmin.com/es-ES/dealerlocator:
Más información acerca de Garmin D2 Air X10 blanco (010-02496-13)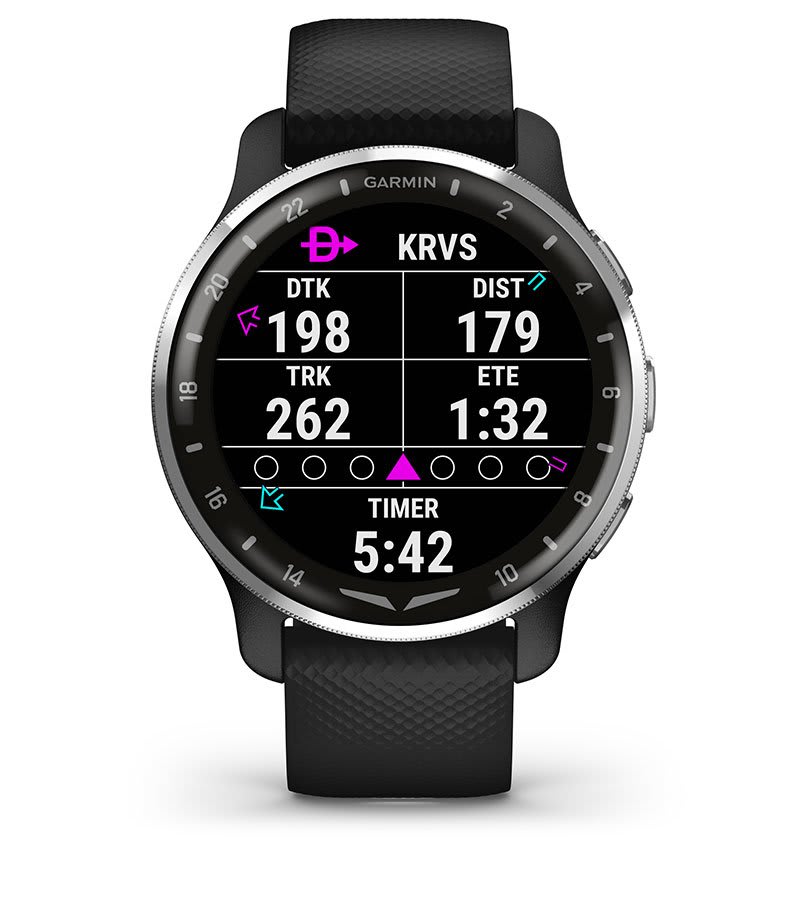 DIRECT-TO NAVIGATION
Navigate straight to a location or waypoint in the worldwide aeronautical database, or choose the Nearest function to activate a path to a nearby airport.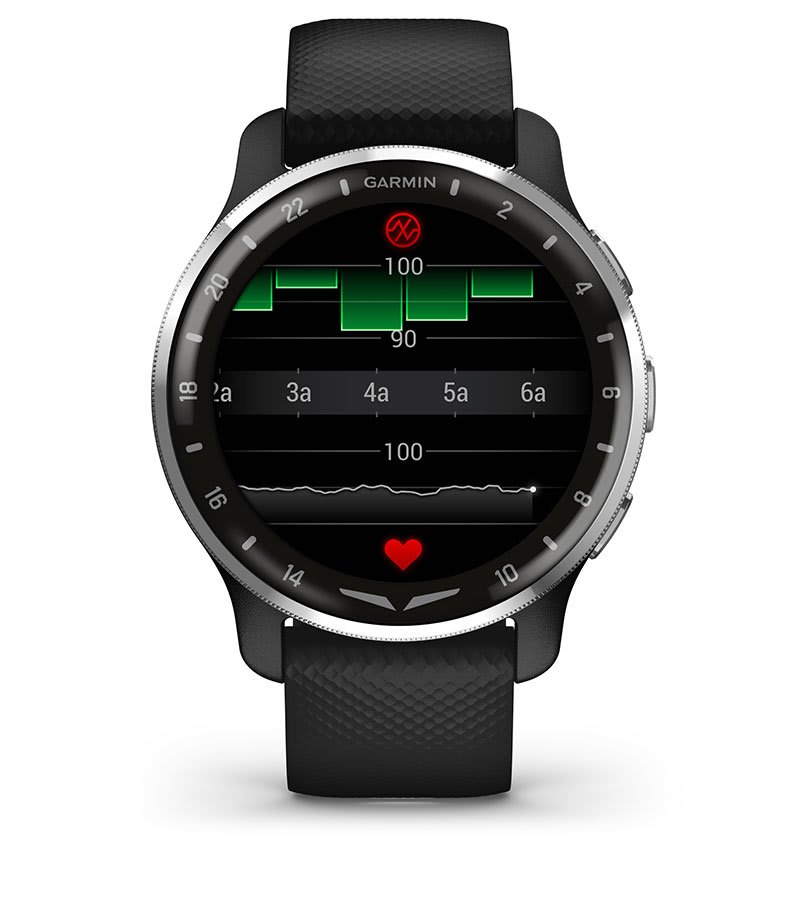 PULSE OX SENSOR
Check Pulse Ox3 to gain awareness of how well your body's oxygen levels are adjusting to the thinner air at higher altitudes.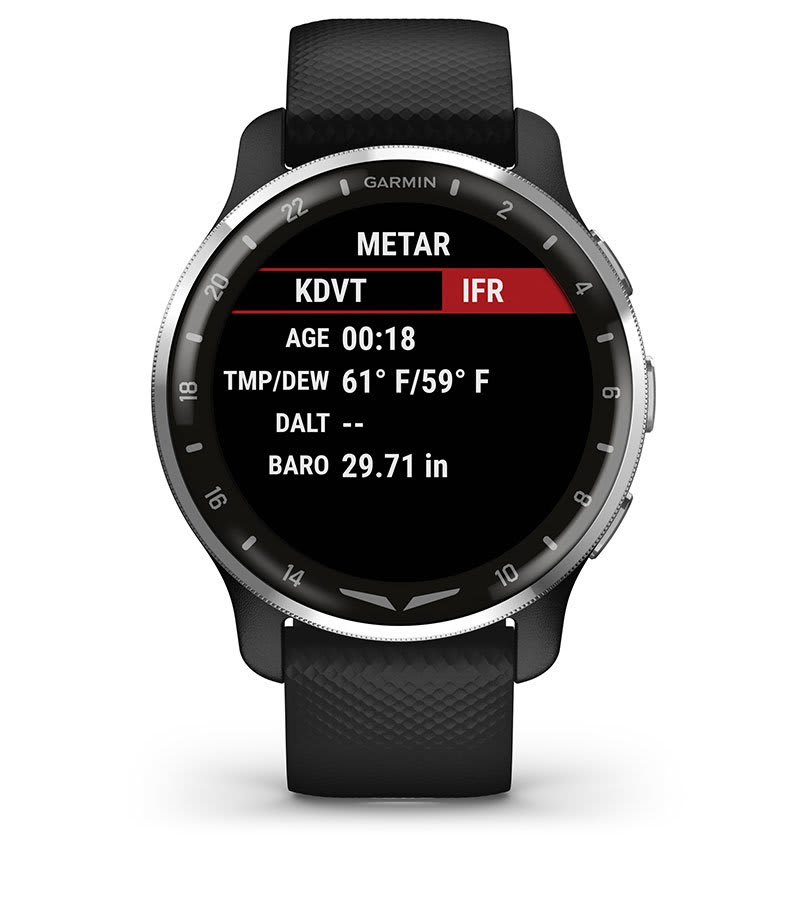 WEATHER REPORTS
Access aviation weather, including METARs and TAFs, to see winds, visibility, barometric pressure and more2.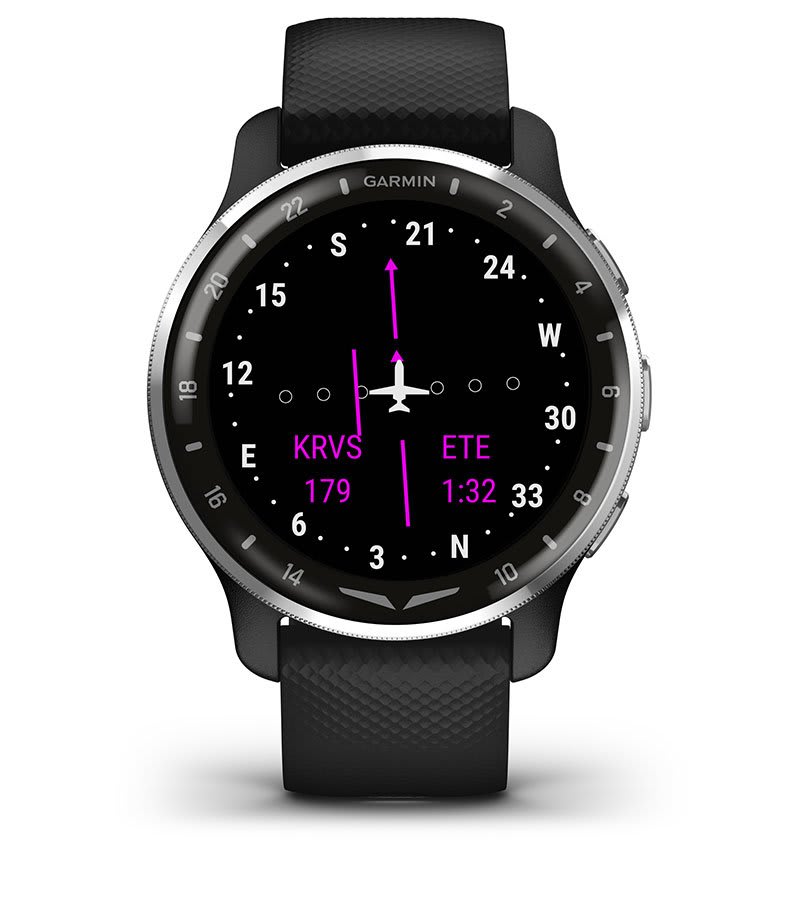 HSI COURSE NEEDLE
Follow the instrument-like HSI course needle to your destination, so you can easily see if you're left or right of your desired flight path.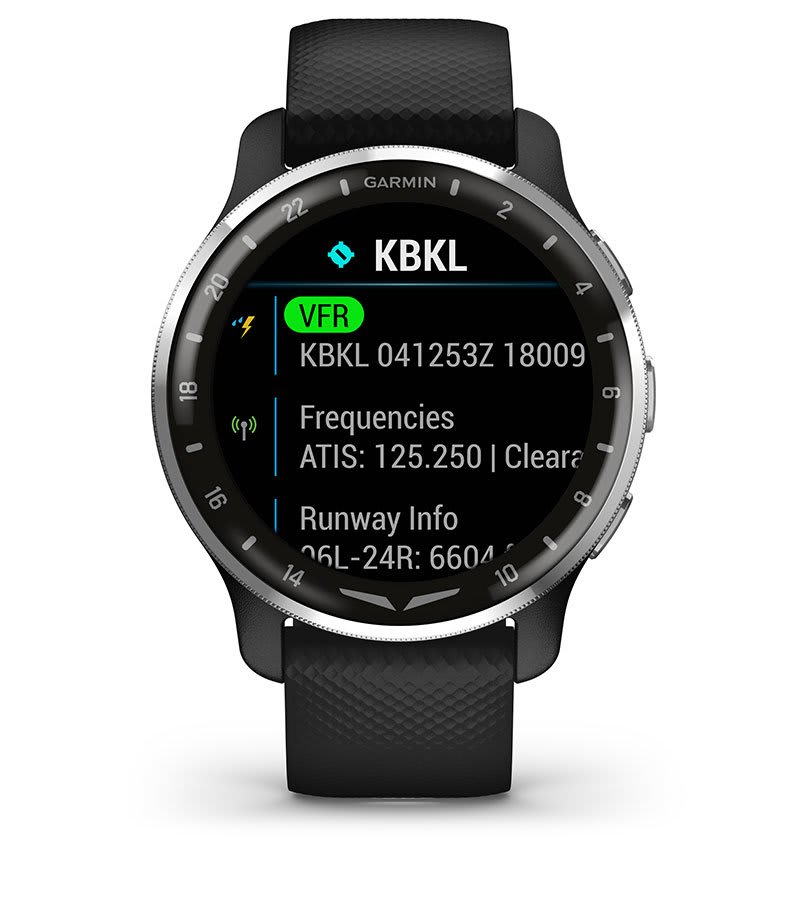 AIRPORT INFORMATION
View runway orientation (including wind components2), lengths and airport frequencies as you approach your destination.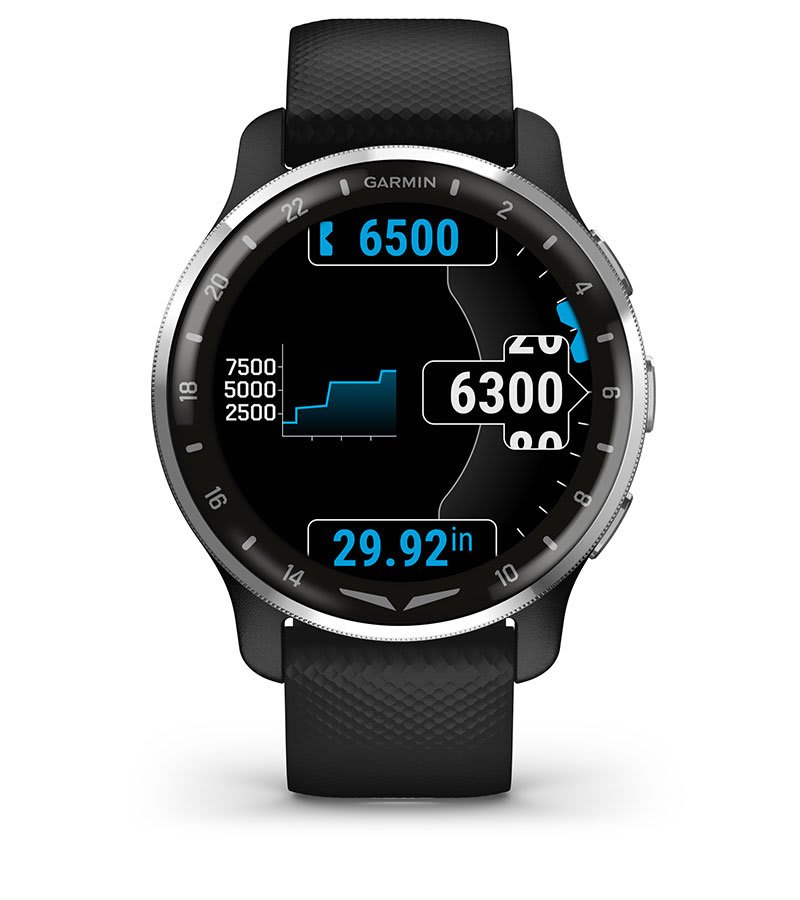 BAROMETRIC ALTIMETER
See when you've reached your desired altitude — or get a vibration alert when you reach an altitude where supplemental oxygen may be required.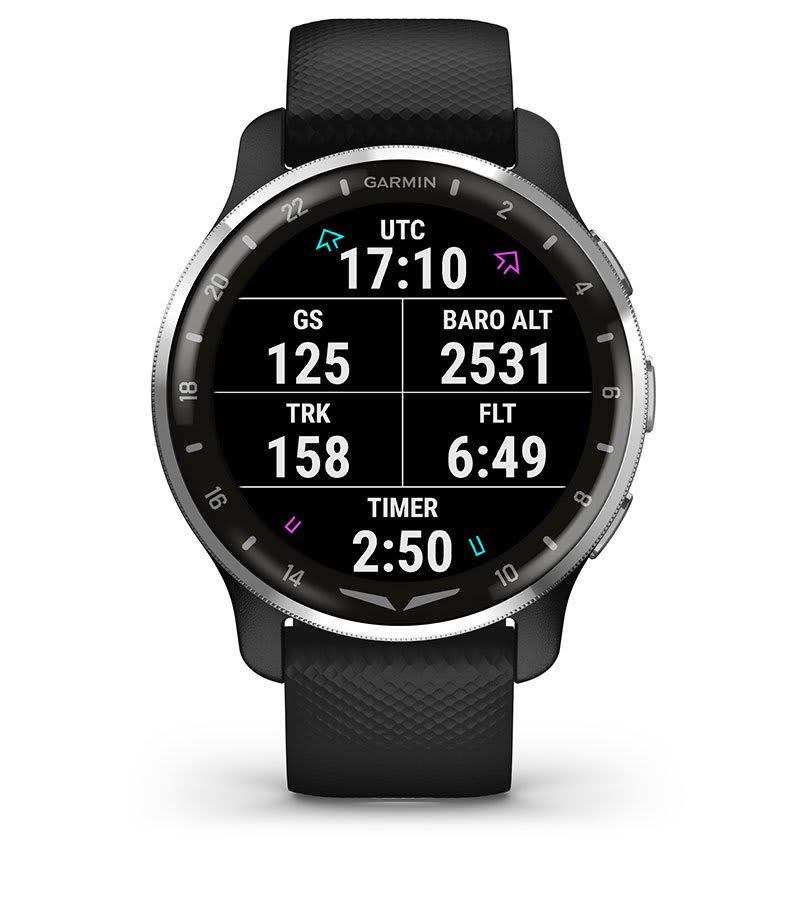 FLIGHT LOGGING
Automatically start tracking flights on takeoff, then automatically transfer date, duration, total flight time and route to your flyGarmin.com account2.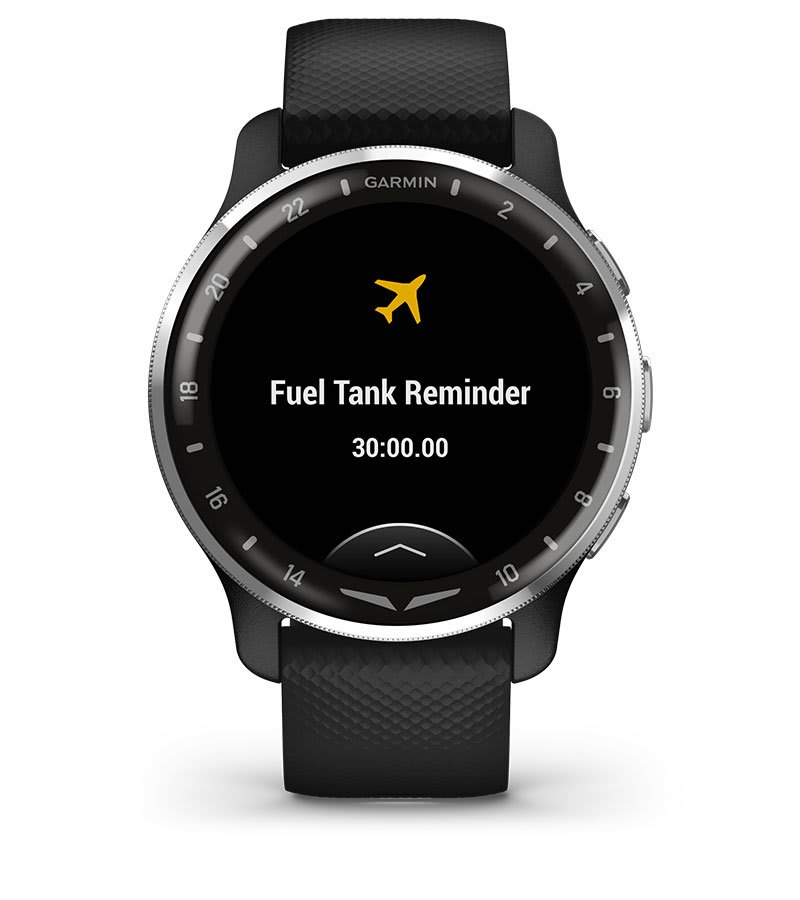 ALERTS AND TIMERS
Manually set vibrating alerts to remind you when it's time to switch fuel tanks or perform other time-critical tasks.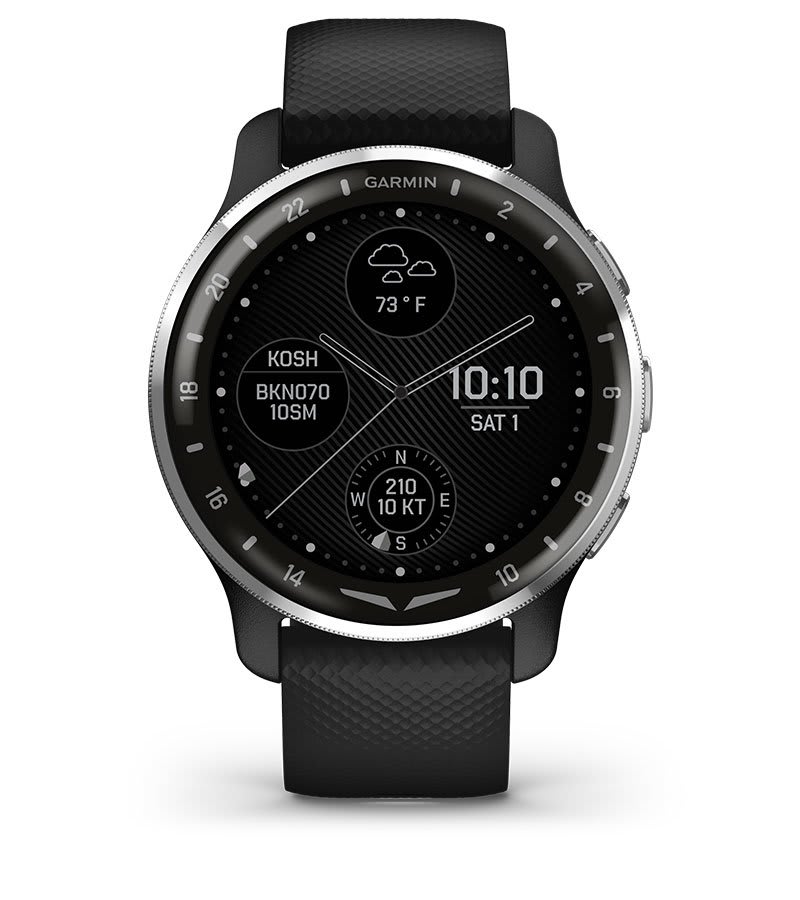 UTC AND TIME ZONES
Stay on schedule when you travel with a UTC hand on the watch face plus multiple time zone displays.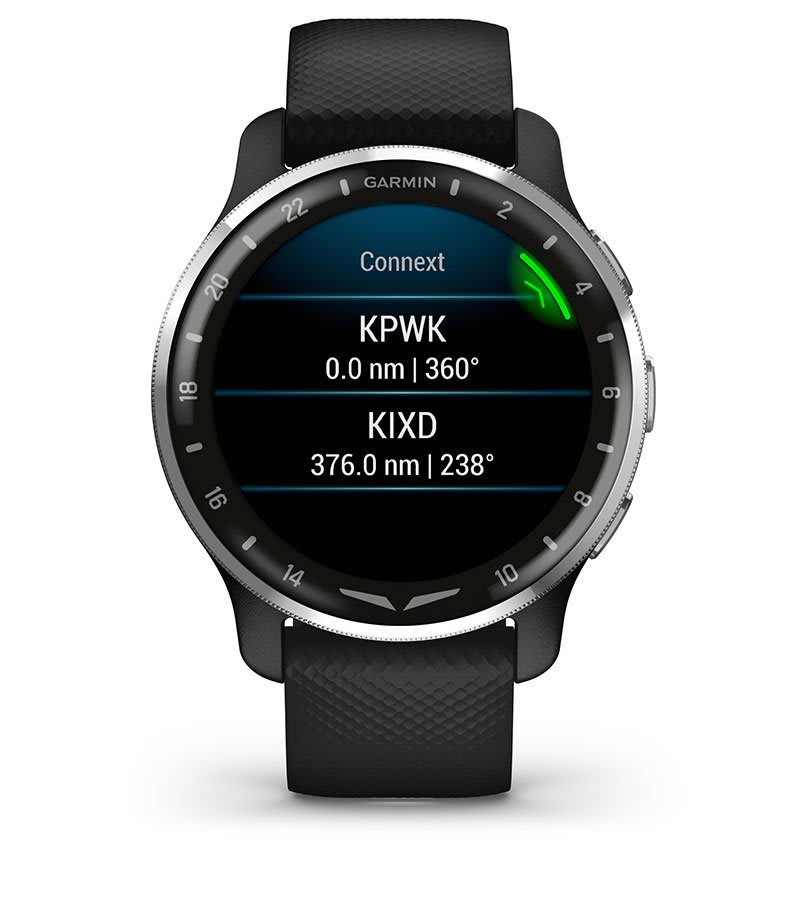 GARMIN PILOT™
APP CONNECTIVITY

Transfer your flight plan from the Garmin Pilot app4 to the D2 Air X10 smartwatch, and view the list of waypoints included in your route.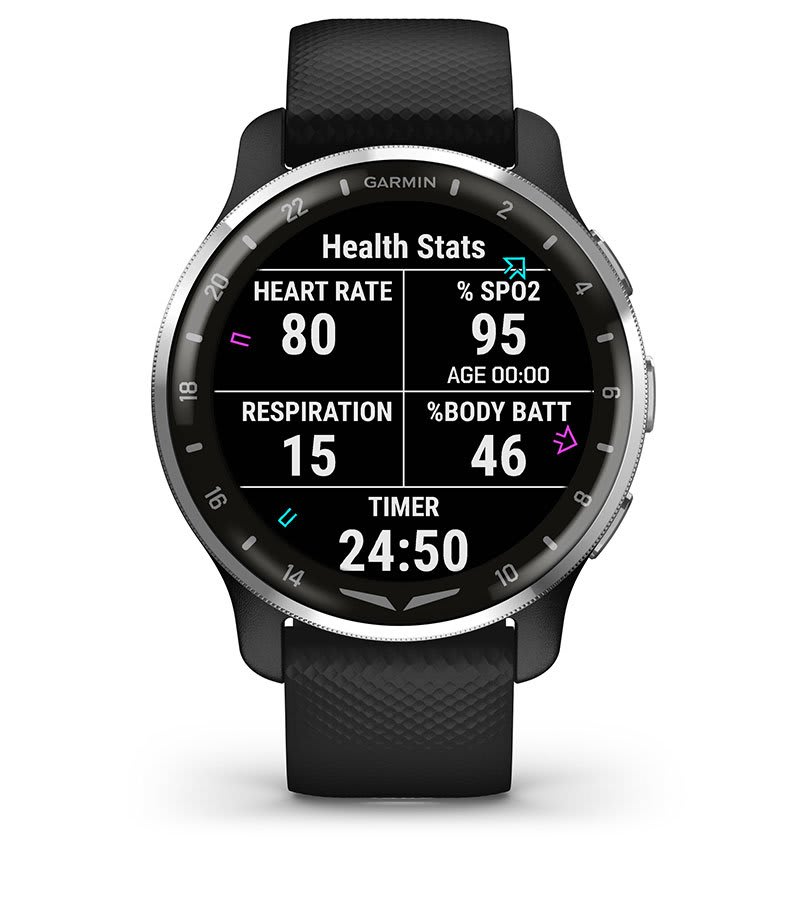 HEALTH STATS
View the health stats page within the fly activity to track your heart rate, Pulse Ox3, respiration, Body Battery™ energy monitoring and more5.